Error message
Notice: Array to string conversion in Drupal\Core\Template\AttributeArray->__toString() (line 77 of core/lib/Drupal/Core/Template/AttributeArray.php).

Drupal\Core\Template\AttributeArray->__toString() (Line: 53)
Drupal\Core\Template\AttributeValueBase->render() (Line: 324)
Drupal\Core\Template\Attribute->__toString() (Line: 40)
__TwigTemplate_353d8ccc9197266be655bc378606f89a3f0f4a1a2938b948bc8d0587318d99ca->doDisplay(Array, Array) (Line: 405)
Twig\Template->displayWithErrorHandling(Array, Array) (Line: 378)
Twig\Template->display(Array) (Line: 390)
Twig\Template->render(Array) (Line: 55)
twig_render_template('modules/contrib/entity_embed/templates/entity-embed-container.html.twig', Array) (Line: 384)
Drupal\Core\Theme\ThemeManager->render('entity_embed_container', Array) (Line: 489)
Drupal\Core\Render\Renderer->doRender(Array, ) (Line: 204)
Drupal\Core\Render\Renderer->render(Array) (Line: 212)
Drupal\entity_embed\Plugin\Filter\EntityEmbedFilter->Drupal\entity_embed\Plugin\Filter\{closure}() (Line: 580)
Drupal\Core\Render\Renderer->executeInRenderContext(Object, Object) (Line: 213)
Drupal\entity_embed\Plugin\Filter\EntityEmbedFilter->process('NASA's <a href="https://terra.nasa.gov/">Terra</a>, <a href="https://aqua.nasa.gov/">Aqua</a>, and <a href="https://aura.gsfc.nasa.gov/">Aura</a> satellite missions have provided over two decades of Earth observations for public use. As these missions draw to a close, NASA seeks input from the Earth science community <a href="https://nspires.nasaprs.com/external/solicitations/summary!init.do?solId=%7bEC26B6F5-5B02-8932-45F4-EAF5DED2DA14%7d&amp;path=open">by April 4, 2023</a> to inform next steps.

Based on this feedback, NASA will host a data continuity workshop May 23-25, 2023. The discussion, open to the public, will help NASA identify needs and potential data gaps. The workshop will also share alternative data sources. The goal is to minimize interruptions of access to the Earth observations needed for research and decision making.

NASA seeks input from a range of perspectives, including scientists, government agencies, and nonprofit organizations.

More information on this request can be found on the <a href="https://nspires.nasaprs.com/external/solicitations/summary!init.do?solId=%7bEC26B6F5-5B02-8932-45F4-EAF5DED2DA14%7d&amp;path=open">Data Continuity Workshop page</a>.

<em>Artists' renderings of three NASA satellites, from left to right: Terra, Aqua, and Aura. Credits: NASA</em>', 'en') (Line: 118)
Drupal\filter\Element\ProcessedText::preRenderText(Array)
call_user_func_array(Array, Array) (Line: 101)
Drupal\Core\Render\Renderer->doTrustedCallback(Array, Array, 'Render #pre_render callbacks must be methods of a class that implements \Drupal\Core\Security\TrustedCallbackInterface or be an anonymous function. The callback was %s. See https://www.drupal.org/node/2966725', 'exception', 'Drupal\Core\Render\Element\RenderCallbackInterface') (Line: 788)
Drupal\Core\Render\Renderer->doCallback('#pre_render', Array, Array) (Line: 374)
Drupal\Core\Render\Renderer->doRender(Array, 1) (Line: 204)
Drupal\Core\Render\Renderer->render(Array, 1) (Line: 160)
Drupal\Core\Render\Renderer->Drupal\Core\Render\{closure}() (Line: 580)
Drupal\Core\Render\Renderer->executeInRenderContext(Object, Object) (Line: 161)
Drupal\Core\Render\Renderer->renderPlain(Array) (Line: 62)
Drupal\text\TextProcessed->getValue() (Line: 140)
Drupal\Core\Field\FieldItemBase->__get('processed') (Line: 139)
node_tokens('node', Array, Array, Array, Object)
call_user_func_array(Object, Array) (Line: 426)
Drupal\Core\Extension\ModuleHandler->Drupal\Core\Extension\{closure}(Object, 'node') (Line: 405)
Drupal\Core\Extension\ModuleHandler->invokeAllWith('tokens', Object) (Line: 433)
Drupal\Core\Extension\ModuleHandler->invokeAll('tokens', Array) (Line: 357)
Drupal\Core\Utility\Token->generate('node', Array, Array, Array, Object) (Line: 239)
Drupal\Core\Utility\Token->doReplace(1, '[node:summary]', Array, Array, Object) (Line: 189)
Drupal\Core\Utility\Token->replace('[node:summary]', Array, Array, NULL) (Line: 66)
Drupal\metatag\MetatagToken->replace('[node:summary]', Array, Array) (Line: 773)
Drupal\metatag\MetatagManager->processTagValue(Object, Array, Array, , 'en') (Line: 622)
Drupal\metatag\MetatagManager->generateRawElements(Array, Object) (Line: 544)
Drupal\metatag\MetatagManager->generateElements(Array, Object) (Line: 508)
metatag_get_tags_from_route() (Line: 271)
_metatag_remove_duplicate_entity_tags(Array) (Line: 217)
metatag_entity_view_alter(Array, Object, Object) (Line: 562)
Drupal\Core\Extension\ModuleHandler->alter('node_view', Array, Object, Object) (Line: 305)
Drupal\Core\Entity\EntityViewBuilder->buildMultiple(Array) (Line: 239)
Drupal\Core\Entity\EntityViewBuilder->build(Array)
call_user_func_array(Array, Array) (Line: 101)
Drupal\Core\Render\Renderer->doTrustedCallback(Array, Array, 'Render #pre_render callbacks must be methods of a class that implements \Drupal\Core\Security\TrustedCallbackInterface or be an anonymous function. The callback was %s. See https://www.drupal.org/node/2966725', 'exception', 'Drupal\Core\Render\Element\RenderCallbackInterface') (Line: 788)
Drupal\Core\Render\Renderer->doCallback('#pre_render', Array, Array) (Line: 374)
Drupal\Core\Render\Renderer->doRender(Array, ) (Line: 204)
Drupal\Core\Render\Renderer->render(Array, ) (Line: 242)
Drupal\Core\Render\MainContent\HtmlRenderer->Drupal\Core\Render\MainContent\{closure}() (Line: 580)
Drupal\Core\Render\Renderer->executeInRenderContext(Object, Object) (Line: 243)
Drupal\Core\Render\MainContent\HtmlRenderer->prepare(Array, Object, Object) (Line: 132)
Drupal\Core\Render\MainContent\HtmlRenderer->renderResponse(Array, Object, Object) (Line: 90)
Drupal\Core\EventSubscriber\MainContentViewSubscriber->onViewRenderArray(Object, 'kernel.view', Object)
call_user_func(Array, Object, 'kernel.view', Object) (Line: 142)
Drupal\Component\EventDispatcher\ContainerAwareEventDispatcher->dispatch(Object, 'kernel.view') (Line: 174)
Symfony\Component\HttpKernel\HttpKernel->handleRaw(Object, 1) (Line: 81)
Symfony\Component\HttpKernel\HttpKernel->handle(Object, 1, 1) (Line: 58)
Drupal\Core\StackMiddleware\Session->handle(Object, 1, 1) (Line: 48)
Drupal\Core\StackMiddleware\KernelPreHandle->handle(Object, 1, 1) (Line: 191)
Drupal\page_cache\StackMiddleware\PageCache->fetch(Object, 1, 1) (Line: 128)
Drupal\page_cache\StackMiddleware\PageCache->lookup(Object, 1, 1) (Line: 82)
Drupal\page_cache\StackMiddleware\PageCache->handle(Object, 1, 1) (Line: 49)
Asm89\Stack\Cors->handle(Object, 1, 1) (Line: 48)
Drupal\Core\StackMiddleware\ReverseProxyMiddleware->handle(Object, 1, 1) (Line: 51)
Drupal\Core\StackMiddleware\NegotiationMiddleware->handle(Object, 1, 1) (Line: 23)
Stack\StackedHttpKernel->handle(Object, 1, 1) (Line: 718)
Drupal\Core\DrupalKernel->handle(Object) (Line: 19)


Notice: Array to string conversion in Drupal\Core\Template\AttributeArray->__toString() (line 78 of core/lib/Drupal/Core/Template/AttributeArray.php).

Drupal\Core\Template\AttributeArray->__toString() (Line: 53)
Drupal\Core\Template\AttributeValueBase->render() (Line: 324)
Drupal\Core\Template\Attribute->__toString() (Line: 40)
__TwigTemplate_353d8ccc9197266be655bc378606f89a3f0f4a1a2938b948bc8d0587318d99ca->doDisplay(Array, Array) (Line: 405)
Twig\Template->displayWithErrorHandling(Array, Array) (Line: 378)
Twig\Template->display(Array) (Line: 390)
Twig\Template->render(Array) (Line: 55)
twig_render_template('modules/contrib/entity_embed/templates/entity-embed-container.html.twig', Array) (Line: 384)
Drupal\Core\Theme\ThemeManager->render('entity_embed_container', Array) (Line: 489)
Drupal\Core\Render\Renderer->doRender(Array, ) (Line: 204)
Drupal\Core\Render\Renderer->render(Array) (Line: 212)
Drupal\entity_embed\Plugin\Filter\EntityEmbedFilter->Drupal\entity_embed\Plugin\Filter\{closure}() (Line: 580)
Drupal\Core\Render\Renderer->executeInRenderContext(Object, Object) (Line: 213)
Drupal\entity_embed\Plugin\Filter\EntityEmbedFilter->process('NASA's <a href="https://terra.nasa.gov/">Terra</a>, <a href="https://aqua.nasa.gov/">Aqua</a>, and <a href="https://aura.gsfc.nasa.gov/">Aura</a> satellite missions have provided over two decades of Earth observations for public use. As these missions draw to a close, NASA seeks input from the Earth science community <a href="https://nspires.nasaprs.com/external/solicitations/summary!init.do?solId=%7bEC26B6F5-5B02-8932-45F4-EAF5DED2DA14%7d&amp;path=open">by April 4, 2023</a> to inform next steps.

Based on this feedback, NASA will host a data continuity workshop May 23-25, 2023. The discussion, open to the public, will help NASA identify needs and potential data gaps. The workshop will also share alternative data sources. The goal is to minimize interruptions of access to the Earth observations needed for research and decision making.

NASA seeks input from a range of perspectives, including scientists, government agencies, and nonprofit organizations.

More information on this request can be found on the <a href="https://nspires.nasaprs.com/external/solicitations/summary!init.do?solId=%7bEC26B6F5-5B02-8932-45F4-EAF5DED2DA14%7d&amp;path=open">Data Continuity Workshop page</a>.

<em>Artists' renderings of three NASA satellites, from left to right: Terra, Aqua, and Aura. Credits: NASA</em>', 'en') (Line: 118)
Drupal\filter\Element\ProcessedText::preRenderText(Array)
call_user_func_array(Array, Array) (Line: 101)
Drupal\Core\Render\Renderer->doTrustedCallback(Array, Array, 'Render #pre_render callbacks must be methods of a class that implements \Drupal\Core\Security\TrustedCallbackInterface or be an anonymous function. The callback was %s. See https://www.drupal.org/node/2966725', 'exception', 'Drupal\Core\Render\Element\RenderCallbackInterface') (Line: 788)
Drupal\Core\Render\Renderer->doCallback('#pre_render', Array, Array) (Line: 374)
Drupal\Core\Render\Renderer->doRender(Array, 1) (Line: 204)
Drupal\Core\Render\Renderer->render(Array, 1) (Line: 160)
Drupal\Core\Render\Renderer->Drupal\Core\Render\{closure}() (Line: 580)
Drupal\Core\Render\Renderer->executeInRenderContext(Object, Object) (Line: 161)
Drupal\Core\Render\Renderer->renderPlain(Array) (Line: 62)
Drupal\text\TextProcessed->getValue() (Line: 140)
Drupal\Core\Field\FieldItemBase->__get('processed') (Line: 139)
node_tokens('node', Array, Array, Array, Object)
call_user_func_array(Object, Array) (Line: 426)
Drupal\Core\Extension\ModuleHandler->Drupal\Core\Extension\{closure}(Object, 'node') (Line: 405)
Drupal\Core\Extension\ModuleHandler->invokeAllWith('tokens', Object) (Line: 433)
Drupal\Core\Extension\ModuleHandler->invokeAll('tokens', Array) (Line: 357)
Drupal\Core\Utility\Token->generate('node', Array, Array, Array, Object) (Line: 239)
Drupal\Core\Utility\Token->doReplace(1, '[node:summary]', Array, Array, Object) (Line: 189)
Drupal\Core\Utility\Token->replace('[node:summary]', Array, Array, NULL) (Line: 66)
Drupal\metatag\MetatagToken->replace('[node:summary]', Array, Array) (Line: 773)
Drupal\metatag\MetatagManager->processTagValue(Object, Array, Array, , 'en') (Line: 622)
Drupal\metatag\MetatagManager->generateRawElements(Array, Object) (Line: 544)
Drupal\metatag\MetatagManager->generateElements(Array, Object) (Line: 508)
metatag_get_tags_from_route() (Line: 271)
_metatag_remove_duplicate_entity_tags(Array) (Line: 217)
metatag_entity_view_alter(Array, Object, Object) (Line: 562)
Drupal\Core\Extension\ModuleHandler->alter('node_view', Array, Object, Object) (Line: 305)
Drupal\Core\Entity\EntityViewBuilder->buildMultiple(Array) (Line: 239)
Drupal\Core\Entity\EntityViewBuilder->build(Array)
call_user_func_array(Array, Array) (Line: 101)
Drupal\Core\Render\Renderer->doTrustedCallback(Array, Array, 'Render #pre_render callbacks must be methods of a class that implements \Drupal\Core\Security\TrustedCallbackInterface or be an anonymous function. The callback was %s. See https://www.drupal.org/node/2966725', 'exception', 'Drupal\Core\Render\Element\RenderCallbackInterface') (Line: 788)
Drupal\Core\Render\Renderer->doCallback('#pre_render', Array, Array) (Line: 374)
Drupal\Core\Render\Renderer->doRender(Array, ) (Line: 204)
Drupal\Core\Render\Renderer->render(Array, ) (Line: 242)
Drupal\Core\Render\MainContent\HtmlRenderer->Drupal\Core\Render\MainContent\{closure}() (Line: 580)
Drupal\Core\Render\Renderer->executeInRenderContext(Object, Object) (Line: 243)
Drupal\Core\Render\MainContent\HtmlRenderer->prepare(Array, Object, Object) (Line: 132)
Drupal\Core\Render\MainContent\HtmlRenderer->renderResponse(Array, Object, Object) (Line: 90)
Drupal\Core\EventSubscriber\MainContentViewSubscriber->onViewRenderArray(Object, 'kernel.view', Object)
call_user_func(Array, Object, 'kernel.view', Object) (Line: 142)
Drupal\Component\EventDispatcher\ContainerAwareEventDispatcher->dispatch(Object, 'kernel.view') (Line: 174)
Symfony\Component\HttpKernel\HttpKernel->handleRaw(Object, 1) (Line: 81)
Symfony\Component\HttpKernel\HttpKernel->handle(Object, 1, 1) (Line: 58)
Drupal\Core\StackMiddleware\Session->handle(Object, 1, 1) (Line: 48)
Drupal\Core\StackMiddleware\KernelPreHandle->handle(Object, 1, 1) (Line: 191)
Drupal\page_cache\StackMiddleware\PageCache->fetch(Object, 1, 1) (Line: 128)
Drupal\page_cache\StackMiddleware\PageCache->lookup(Object, 1, 1) (Line: 82)
Drupal\page_cache\StackMiddleware\PageCache->handle(Object, 1, 1) (Line: 49)
Asm89\Stack\Cors->handle(Object, 1, 1) (Line: 48)
Drupal\Core\StackMiddleware\ReverseProxyMiddleware->handle(Object, 1, 1) (Line: 51)
Drupal\Core\StackMiddleware\NegotiationMiddleware->handle(Object, 1, 1) (Line: 23)
Stack\StackedHttpKernel->handle(Object, 1, 1) (Line: 718)
Drupal\Core\DrupalKernel->handle(Object) (Line: 19)


Notice: Array to string conversion in Drupal\Core\Template\AttributeArray->__toString() (line 77 of core/lib/Drupal/Core/Template/AttributeArray.php).

Drupal\Core\Template\AttributeArray->__toString() (Line: 53)
Drupal\Core\Template\AttributeValueBase->render() (Line: 324)
Drupal\Core\Template\Attribute->__toString() (Line: 40)
__TwigTemplate_353d8ccc9197266be655bc378606f89a3f0f4a1a2938b948bc8d0587318d99ca->doDisplay(Array, Array) (Line: 405)
Twig\Template->displayWithErrorHandling(Array, Array) (Line: 378)
Twig\Template->display(Array) (Line: 390)
Twig\Template->render(Array) (Line: 55)
twig_render_template('modules/contrib/entity_embed/templates/entity-embed-container.html.twig', Array) (Line: 384)
Drupal\Core\Theme\ThemeManager->render('entity_embed_container', Array) (Line: 489)
Drupal\Core\Render\Renderer->doRender(Array, ) (Line: 204)
Drupal\Core\Render\Renderer->render(Array) (Line: 212)
Drupal\entity_embed\Plugin\Filter\EntityEmbedFilter->Drupal\entity_embed\Plugin\Filter\{closure}() (Line: 580)
Drupal\Core\Render\Renderer->executeInRenderContext(Object, Object) (Line: 213)
Drupal\entity_embed\Plugin\Filter\EntityEmbedFilter->process('NASA's <a href="https://terra.nasa.gov/">Terra</a>, <a href="https://aqua.nasa.gov/">Aqua</a>, and <a href="https://aura.gsfc.nasa.gov/">Aura</a> satellite missions have provided over two decades of Earth observations for public use. As these missions draw to a close, NASA seeks input from the Earth science community <a href="https://nspires.nasaprs.com/external/solicitations/summary!init.do?solId=%7bEC26B6F5-5B02-8932-45F4-EAF5DED2DA14%7d&amp;path=open">by April 4, 2023</a> to inform next steps.

Based on this feedback, NASA will host a data continuity workshop May 23-25, 2023. The discussion, open to the public, will help NASA identify needs and potential data gaps. The workshop will also share alternative data sources. The goal is to minimize interruptions of access to the Earth observations needed for research and decision making.

NASA seeks input from a range of perspectives, including scientists, government agencies, and nonprofit organizations.

More information on this request can be found on the <a href="https://nspires.nasaprs.com/external/solicitations/summary!init.do?solId=%7bEC26B6F5-5B02-8932-45F4-EAF5DED2DA14%7d&amp;path=open">Data Continuity Workshop page</a>.

<em>Artists' renderings of three NASA satellites, from left to right: Terra, Aqua, and Aura. Credits: NASA</em>', 'en') (Line: 118)
Drupal\filter\Element\ProcessedText::preRenderText(Array)
call_user_func_array(Array, Array) (Line: 101)
Drupal\Core\Render\Renderer->doTrustedCallback(Array, Array, 'Render #pre_render callbacks must be methods of a class that implements \Drupal\Core\Security\TrustedCallbackInterface or be an anonymous function. The callback was %s. See https://www.drupal.org/node/2966725', 'exception', 'Drupal\Core\Render\Element\RenderCallbackInterface') (Line: 788)
Drupal\Core\Render\Renderer->doCallback('#pre_render', Array, Array) (Line: 374)
Drupal\Core\Render\Renderer->doRender(Array, ) (Line: 204)
Drupal\Core\Render\Renderer->render(Array) (Line: 479)
Drupal\Core\Template\TwigExtension->escapeFilter(Object, Array, 'html', NULL, 1) (Line: 88)
__TwigTemplate_44249df20b32c9b7722500a04bec3ef9abd4a6caad7c8e50935d7e275a433188->doDisplay(Array, Array) (Line: 405)
Twig\Template->displayWithErrorHandling(Array, Array) (Line: 378)
Twig\Template->display(Array, Array) (Line: 46)
__TwigTemplate_bb47d14a8acff65f3582e8907cd1818796498f2a9f63f13b2701553ce6537bd4->doDisplay(Array, Array) (Line: 405)
Twig\Template->displayWithErrorHandling(Array, Array) (Line: 378)
Twig\Template->display(Array, Array) (Line: 43)
__TwigTemplate_7824e364230757e7f930cdcbf04696fe18f6789e88f6d68009f314070ec1aca2->doDisplay(Array, Array) (Line: 405)
Twig\Template->displayWithErrorHandling(Array, Array) (Line: 378)
Twig\Template->display(Array) (Line: 390)
Twig\Template->render(Array) (Line: 55)
twig_render_template('core/themes/classy/templates/field/field--text-with-summary.html.twig', Array) (Line: 384)
Drupal\Core\Theme\ThemeManager->render('field', Array) (Line: 433)
Drupal\Core\Render\Renderer->doRender(Array) (Line: 446)
Drupal\Core\Render\Renderer->doRender(Array, ) (Line: 204)
Drupal\Core\Render\Renderer->render(Array) (Line: 479)
Drupal\Core\Template\TwigExtension->escapeFilter(Object, Array, 'html', NULL, 1) (Line: 73)
__TwigTemplate_4456b620eb198fa688a06bce4ad26f7755afd808e0baaf587fe51c5790c848e0->doDisplay(Array, Array) (Line: 405)
Twig\Template->displayWithErrorHandling(Array, Array) (Line: 378)
Twig\Template->display(Array) (Line: 390)
Twig\Template->render(Array) (Line: 55)
twig_render_template('themes/custom/nasa_as/templates/ds/layout--twocol.html.twig', Array) (Line: 384)
Drupal\Core\Theme\ThemeManager->render('layout__twocol', Array) (Line: 433)
Drupal\Core\Render\Renderer->doRender(Array, ) (Line: 204)
Drupal\Core\Render\Renderer->render(Array) (Line: 479)
Drupal\Core\Template\TwigExtension->escapeFilter(Object, Array, 'html', NULL, 1) (Line: 39)
__TwigTemplate_49ec8d4d08974571aaf8948d727ffc84837b0d79b0cbd9858674b80779dac43c->doDisplay(Array, Array) (Line: 405)
Twig\Template->displayWithErrorHandling(Array, Array) (Line: 378)
Twig\Template->display(Array) (Line: 390)
Twig\Template->render(Array) (Line: 55)
twig_render_template('modules/contrib/ds/templates/ds-entity-view.html.twig', Array) (Line: 384)
Drupal\Core\Theme\ThemeManager->render('ds_entity_view', Array) (Line: 433)
Drupal\Core\Render\Renderer->doRender(Array, ) (Line: 204)
Drupal\Core\Render\Renderer->render(Array, ) (Line: 242)
Drupal\Core\Render\MainContent\HtmlRenderer->Drupal\Core\Render\MainContent\{closure}() (Line: 580)
Drupal\Core\Render\Renderer->executeInRenderContext(Object, Object) (Line: 243)
Drupal\Core\Render\MainContent\HtmlRenderer->prepare(Array, Object, Object) (Line: 132)
Drupal\Core\Render\MainContent\HtmlRenderer->renderResponse(Array, Object, Object) (Line: 90)
Drupal\Core\EventSubscriber\MainContentViewSubscriber->onViewRenderArray(Object, 'kernel.view', Object)
call_user_func(Array, Object, 'kernel.view', Object) (Line: 142)
Drupal\Component\EventDispatcher\ContainerAwareEventDispatcher->dispatch(Object, 'kernel.view') (Line: 174)
Symfony\Component\HttpKernel\HttpKernel->handleRaw(Object, 1) (Line: 81)
Symfony\Component\HttpKernel\HttpKernel->handle(Object, 1, 1) (Line: 58)
Drupal\Core\StackMiddleware\Session->handle(Object, 1, 1) (Line: 48)
Drupal\Core\StackMiddleware\KernelPreHandle->handle(Object, 1, 1) (Line: 191)
Drupal\page_cache\StackMiddleware\PageCache->fetch(Object, 1, 1) (Line: 128)
Drupal\page_cache\StackMiddleware\PageCache->lookup(Object, 1, 1) (Line: 82)
Drupal\page_cache\StackMiddleware\PageCache->handle(Object, 1, 1) (Line: 49)
Asm89\Stack\Cors->handle(Object, 1, 1) (Line: 48)
Drupal\Core\StackMiddleware\ReverseProxyMiddleware->handle(Object, 1, 1) (Line: 51)
Drupal\Core\StackMiddleware\NegotiationMiddleware->handle(Object, 1, 1) (Line: 23)
Stack\StackedHttpKernel->handle(Object, 1, 1) (Line: 718)
Drupal\Core\DrupalKernel->handle(Object) (Line: 19)


Notice: Array to string conversion in Drupal\Core\Template\AttributeArray->__toString() (line 78 of core/lib/Drupal/Core/Template/AttributeArray.php).

Drupal\Core\Template\AttributeArray->__toString() (Line: 53)
Drupal\Core\Template\AttributeValueBase->render() (Line: 324)
Drupal\Core\Template\Attribute->__toString() (Line: 40)
__TwigTemplate_353d8ccc9197266be655bc378606f89a3f0f4a1a2938b948bc8d0587318d99ca->doDisplay(Array, Array) (Line: 405)
Twig\Template->displayWithErrorHandling(Array, Array) (Line: 378)
Twig\Template->display(Array) (Line: 390)
Twig\Template->render(Array) (Line: 55)
twig_render_template('modules/contrib/entity_embed/templates/entity-embed-container.html.twig', Array) (Line: 384)
Drupal\Core\Theme\ThemeManager->render('entity_embed_container', Array) (Line: 489)
Drupal\Core\Render\Renderer->doRender(Array, ) (Line: 204)
Drupal\Core\Render\Renderer->render(Array) (Line: 212)
Drupal\entity_embed\Plugin\Filter\EntityEmbedFilter->Drupal\entity_embed\Plugin\Filter\{closure}() (Line: 580)
Drupal\Core\Render\Renderer->executeInRenderContext(Object, Object) (Line: 213)
Drupal\entity_embed\Plugin\Filter\EntityEmbedFilter->process('NASA's <a href="https://terra.nasa.gov/">Terra</a>, <a href="https://aqua.nasa.gov/">Aqua</a>, and <a href="https://aura.gsfc.nasa.gov/">Aura</a> satellite missions have provided over two decades of Earth observations for public use. As these missions draw to a close, NASA seeks input from the Earth science community <a href="https://nspires.nasaprs.com/external/solicitations/summary!init.do?solId=%7bEC26B6F5-5B02-8932-45F4-EAF5DED2DA14%7d&amp;path=open">by April 4, 2023</a> to inform next steps.

Based on this feedback, NASA will host a data continuity workshop May 23-25, 2023. The discussion, open to the public, will help NASA identify needs and potential data gaps. The workshop will also share alternative data sources. The goal is to minimize interruptions of access to the Earth observations needed for research and decision making.

NASA seeks input from a range of perspectives, including scientists, government agencies, and nonprofit organizations.

More information on this request can be found on the <a href="https://nspires.nasaprs.com/external/solicitations/summary!init.do?solId=%7bEC26B6F5-5B02-8932-45F4-EAF5DED2DA14%7d&amp;path=open">Data Continuity Workshop page</a>.

<em>Artists' renderings of three NASA satellites, from left to right: Terra, Aqua, and Aura. Credits: NASA</em>', 'en') (Line: 118)
Drupal\filter\Element\ProcessedText::preRenderText(Array)
call_user_func_array(Array, Array) (Line: 101)
Drupal\Core\Render\Renderer->doTrustedCallback(Array, Array, 'Render #pre_render callbacks must be methods of a class that implements \Drupal\Core\Security\TrustedCallbackInterface or be an anonymous function. The callback was %s. See https://www.drupal.org/node/2966725', 'exception', 'Drupal\Core\Render\Element\RenderCallbackInterface') (Line: 788)
Drupal\Core\Render\Renderer->doCallback('#pre_render', Array, Array) (Line: 374)
Drupal\Core\Render\Renderer->doRender(Array, ) (Line: 204)
Drupal\Core\Render\Renderer->render(Array) (Line: 479)
Drupal\Core\Template\TwigExtension->escapeFilter(Object, Array, 'html', NULL, 1) (Line: 88)
__TwigTemplate_44249df20b32c9b7722500a04bec3ef9abd4a6caad7c8e50935d7e275a433188->doDisplay(Array, Array) (Line: 405)
Twig\Template->displayWithErrorHandling(Array, Array) (Line: 378)
Twig\Template->display(Array, Array) (Line: 46)
__TwigTemplate_bb47d14a8acff65f3582e8907cd1818796498f2a9f63f13b2701553ce6537bd4->doDisplay(Array, Array) (Line: 405)
Twig\Template->displayWithErrorHandling(Array, Array) (Line: 378)
Twig\Template->display(Array, Array) (Line: 43)
__TwigTemplate_7824e364230757e7f930cdcbf04696fe18f6789e88f6d68009f314070ec1aca2->doDisplay(Array, Array) (Line: 405)
Twig\Template->displayWithErrorHandling(Array, Array) (Line: 378)
Twig\Template->display(Array) (Line: 390)
Twig\Template->render(Array) (Line: 55)
twig_render_template('core/themes/classy/templates/field/field--text-with-summary.html.twig', Array) (Line: 384)
Drupal\Core\Theme\ThemeManager->render('field', Array) (Line: 433)
Drupal\Core\Render\Renderer->doRender(Array) (Line: 446)
Drupal\Core\Render\Renderer->doRender(Array, ) (Line: 204)
Drupal\Core\Render\Renderer->render(Array) (Line: 479)
Drupal\Core\Template\TwigExtension->escapeFilter(Object, Array, 'html', NULL, 1) (Line: 73)
__TwigTemplate_4456b620eb198fa688a06bce4ad26f7755afd808e0baaf587fe51c5790c848e0->doDisplay(Array, Array) (Line: 405)
Twig\Template->displayWithErrorHandling(Array, Array) (Line: 378)
Twig\Template->display(Array) (Line: 390)
Twig\Template->render(Array) (Line: 55)
twig_render_template('themes/custom/nasa_as/templates/ds/layout--twocol.html.twig', Array) (Line: 384)
Drupal\Core\Theme\ThemeManager->render('layout__twocol', Array) (Line: 433)
Drupal\Core\Render\Renderer->doRender(Array, ) (Line: 204)
Drupal\Core\Render\Renderer->render(Array) (Line: 479)
Drupal\Core\Template\TwigExtension->escapeFilter(Object, Array, 'html', NULL, 1) (Line: 39)
__TwigTemplate_49ec8d4d08974571aaf8948d727ffc84837b0d79b0cbd9858674b80779dac43c->doDisplay(Array, Array) (Line: 405)
Twig\Template->displayWithErrorHandling(Array, Array) (Line: 378)
Twig\Template->display(Array) (Line: 390)
Twig\Template->render(Array) (Line: 55)
twig_render_template('modules/contrib/ds/templates/ds-entity-view.html.twig', Array) (Line: 384)
Drupal\Core\Theme\ThemeManager->render('ds_entity_view', Array) (Line: 433)
Drupal\Core\Render\Renderer->doRender(Array, ) (Line: 204)
Drupal\Core\Render\Renderer->render(Array, ) (Line: 242)
Drupal\Core\Render\MainContent\HtmlRenderer->Drupal\Core\Render\MainContent\{closure}() (Line: 580)
Drupal\Core\Render\Renderer->executeInRenderContext(Object, Object) (Line: 243)
Drupal\Core\Render\MainContent\HtmlRenderer->prepare(Array, Object, Object) (Line: 132)
Drupal\Core\Render\MainContent\HtmlRenderer->renderResponse(Array, Object, Object) (Line: 90)
Drupal\Core\EventSubscriber\MainContentViewSubscriber->onViewRenderArray(Object, 'kernel.view', Object)
call_user_func(Array, Object, 'kernel.view', Object) (Line: 142)
Drupal\Component\EventDispatcher\ContainerAwareEventDispatcher->dispatch(Object, 'kernel.view') (Line: 174)
Symfony\Component\HttpKernel\HttpKernel->handleRaw(Object, 1) (Line: 81)
Symfony\Component\HttpKernel\HttpKernel->handle(Object, 1, 1) (Line: 58)
Drupal\Core\StackMiddleware\Session->handle(Object, 1, 1) (Line: 48)
Drupal\Core\StackMiddleware\KernelPreHandle->handle(Object, 1, 1) (Line: 191)
Drupal\page_cache\StackMiddleware\PageCache->fetch(Object, 1, 1) (Line: 128)
Drupal\page_cache\StackMiddleware\PageCache->lookup(Object, 1, 1) (Line: 82)
Drupal\page_cache\StackMiddleware\PageCache->handle(Object, 1, 1) (Line: 49)
Asm89\Stack\Cors->handle(Object, 1, 1) (Line: 48)
Drupal\Core\StackMiddleware\ReverseProxyMiddleware->handle(Object, 1, 1) (Line: 51)
Drupal\Core\StackMiddleware\NegotiationMiddleware->handle(Object, 1, 1) (Line: 23)
Stack\StackedHttpKernel->handle(Object, 1, 1) (Line: 718)
Drupal\Core\DrupalKernel->handle(Object) (Line: 19)

NASA's Terra, Aqua, and Aura satellite missions have provided over two decades of Earth observations for public use. As these missions draw to a close, NASA seeks input from the Earth science community by April 4, 2023 to inform next steps.
Based on this feedback, NASA will host a data continuity workshop May 23-25, 2023. The discussion, open to the public, will help NASA identify needs and potential data gaps. The workshop will also share alternative data sources. The goal is to minimize interruptions of access to the Earth observations needed for research and decision making.
NASA seeks input from a range of perspectives, including scientists, government agencies, and nonprofit organizations.
More information on this request can be found on the Data Continuity Workshop page.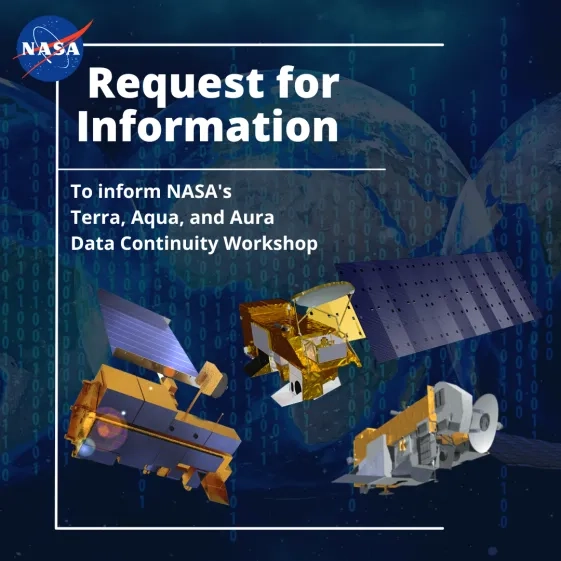 11209
Related Impact